(This post was originally posted by Michael Adams on the Coronation Street Blog in May 2017, reposted to this blog with permission.)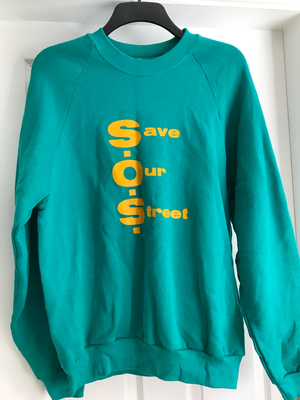 Roy's jumper from the 40th Anniversary episode
Following the Twitter poll that I posted after my last
Collecting Coronation Street instalment
, 45% of you wanted me to cover the costumes in my collection.
I've also been receiving an influx of requests for the costumes part of
my website
to be updated, but I haven't yet had the chance to get all of the character's clothes out of the wardrobe to take photographs. However, for the purposes of this blog, I've took some photos so therefore I'll now be able to update the new look website. Anyway, on with the post!
My first dip into collecting Coronation Street costumes was possibly one of the biggest risks. I'd seen characters clothing sold on eBay for ridiculous sums of money in the past and on a few occasions I'd missed out on some right bargains which hadn't been listed properly. But I wasn't going to let my next eBay discovery slip.
A user was selling a jacket with a Granada Studios certificate of authenticity that supposedly belonged to Anne Kirkbride's Deirdre Barlow. Due to obvious reasons (it's Deirdre!) I wanted to get my hands on it and I watched the auction for days. Ultimately, this was another example of a poorly listed item and it was sold to me for just over £20. The information I'd been given in the auction description was rubbish and in the days leading up to it's arrival I was adamant that I'd just purchased a jacket that hadn't even been anywhere near Manchester, never mind on the back of one of the most iconic characters in Corrie history, ever.
When it arrived I noticed the tag had 'Deirdre' written on, and there was a little pinhole in the lapel. Diving into
Glenda Young's Deirdre book
(which is a really good read), I found a photo of Deirdre with Ken at their failed wedding of 2005. Deirdre was wearing the jacket. It wasn't a waste of money after all!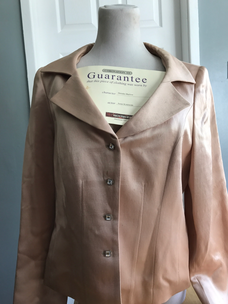 Here it is - Deirdre's jacket.
Whilst Deirdre's jacket is probably my most favourite costume I own, and most definitely the biggest talking point when exhibited, I also have other items of clothing worn by characters over the years, each with a Granada certificate of authenticity. Depending on the popularity of the character, their clothes typically sell for more or less. For example, I have purchased a dress owned by Bev Unwin and a jumper worn by Maxine Peacock for less than a tenner, whilst shirts and blouses worn by Kirk Sutherland, Jason Grimshaw and Sally Webster cost considerably more.
I've also purchased a range of character's accessories through eBay, usually sold as charity auctions, and this way I have obtained pieces such as Fiz's iconic "Fiz" necklace, Norris' tie and a brooch worn by Mary Taylor.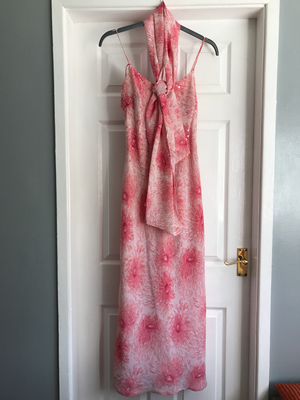 A really hideous dress worn by Bev Unwin
When it comes to buying costumes from eBay I always make sure they come with a certificate or letter supplied by Granada. There are so many auctions listed as "Coronation Street costume" that are just clothes purchased in the high street that are replicas of those worn on the show. I always ensure that they are screen used, otherwise - what's the point in owning them?
Please do let me know what you'd like me to cover in my next Collecting Coronation Street post! I've already featured
props
and
autographs
.
I can be found on Twitter, @MichaelAdamsUk, and on my Corrie Collection account @CStCollection.
---
Tvor
@tvordlj on Twitter