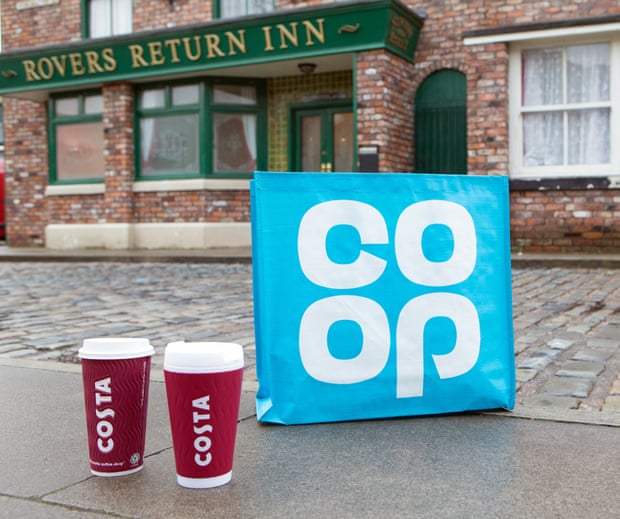 Costa Corrie
When Audrey, David and our lady of the crimpers, Maria were supping from Costa coffee cups last Monday I was a bit surprised. Don't they have a Nespresso 'round the back? I can't imagine Audrey would shell out £2.35 for a primo cappuccino when she could just tell David to pop in a pod.
I'm not sure I like reality creeping onto the cobbles. Coronation Street is such a complete world of Freshco's, Newton and Ridley, Weatherfield County FC, the Weatherfield Gazette (and its sub-editor problems), the Red Rec and The Flying Horse. It's so familiar that we notice when mistakes are made. We know the Precinct, Tile Street and Balaclava Terrace, even though we never see them.
To have the Co-op and a high street coffee shop breaking into this verisimilitude doesn't makes much sense, even if it pays for more outside broadcasts and better snacks in the green room. The world has changed, and manual workers are more likely to have a frothy coffee rather than a builder's tea, but it feels like breaking the fourth wall. What brands will intrude next - will the unholy trinity of Guinness, Foster's and John Smith smooth-flow be on the taps at the Rover's, rather than N&R Best?
How else could reality poke its way onto the cobbles? Could street residents spend 45 minutes commuting to work rather than 4? Could it be that falsely accused prisoners spend a year on remand rather than the next time Debbie Oates is available to write a trial scene? Might Eva have to wait two weeks for a doctor's appointment rather than just popping in for a same day appointment every time she is/isn't pregnant? I reckon the knicker buyers in the Greater Manchester area might one day cotton onto the fact that it'd be a lot cheaper to import underwear from Vietnam or Pakistan, and the factory will become a call centre. Roy's could become a Greggs, Kev's a Kwik-Fit, Prima Donner an outlet of Chicken Cottage. Perhaps Norris will realise that his net earnings from the sale of a quarter of bon-bons, an In Sympathy card for Alya, and Rose Webster's subscription to Moxy magazine, are £1.20 per week and turn the Kabin into a shop that fixes smashed mobile phone screens.
Maybe one day a street resident will go their whole life not finding a long lost relative, being kidnapped or imprisoned for a crime they don't commit. But if the Weatherfield Arms becomes a Wetherspoons, then I'm out.
---
Tvor
@tvordlj on Twitter