(This post was originally posted by Scott Willison on the Coronation Street Blog in March 2017, reposted to this blog with permission.)
Ken Barlow has been on our screens for over fifty-six years, a tenure that has rightly earned Bill Roache a place in the
Guinness Book of Records
. Over the decades we've seen Ken grow from an idealistic young graduate to a crotchety grandfather, with about a thousand girlfriends in between.
However, there's another long-standing character whose screen life is, in some ways, even more impressive: Mr David Daniel Platt.
The thing about Ken is; he came to us fully-formed. The Ken Barlow in the very first episode of
Corrie
was a grown up. He could vote, drink beer; he'd already been through his awkward teenage phase and his rebellious student years. He was a grown up character.
David Platt has lived his
entire life
on screen. Every significant moment of it has been catalogued for
twenty-six years
. We don't just know his birthday; we know the entire history of his mum and dad's relationship. We know that Gail considered aborting him. We know where Gail was when she went into labour (Audrey's house) and we know that Sally Webster was in the bed next to hers in the maternity hospital. Given a bit of time and calculation, you can probably work out exactly when David was conceived, though why you'd
want
to is another matter.
Since then, David's life has unfolded right before our eyes. He's grown from a quiet child to a horrific teen to a (sort of) mature adult. We've seen him get a pet rabbit, love it, then cry when it died. We've seen him react to his parents splitting up, to his mum's many, many remarriages. We know when he lost his virginity (11th January 2008) and to whom (Tina McIntyre). We've watched him fall in love, get married, father a child, and become a widower.
Is there any other character, in any medium,
anywhere,
who's been as well documented? Even on the Street, other characters have drifted in and out. Tracy Barlow, for example, wandered away to London for a few wilderness years, and then a few more in prison. Nick has had periods in Canada and Nottingham. Sarah-Louise went to Milan for seven years. David's been there, all the time; even when he went to a Young Offender's Institution in April 2008, the cameras followed him there. Beyond the confines of Weatherfield, what other TV shows have had the duration
Corrie
has, the ability to actually tell the story of a man's lifetime, every week, for more than a quarter of a century? Films can't manage it; even novels tend to skip over big periods. You don't get the minutiae, the school runs, the Christmas dinners, the daft nights out. David might just show up in one episode, make a couple of wisecracks in the salon, then disappear, but it's another pin; another moment in his life for the records. The only other character I can think of whose life was documented in such detail was Adrian Mole, and we didn't even meet him until he was 13¾. We've known David since birth.
David's face might have changed slightly - Thomas Ormson played him until 2000, when the always-excellent Jack P Shepherd took over - but he's always been with us. He doesn't show any sign of leaving, either, raising the fascinating idea that we could watch David Platt enter middle age, become a grandfather, settle into quiet retirement. Given all that's happened to him in his life, he should probably be in extremely deep therapy, but still; that's a heck of an achievement, and one we should celebrate.
By Scott Willison (@merseytart)
---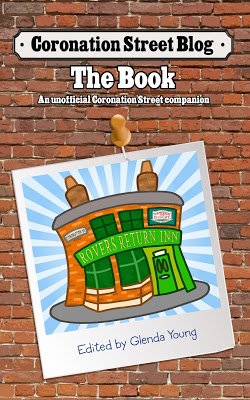 NEW! Coronation Street Blog - the book.
A must for all Corrie fans!
Follow the Bluenose CorrieBlog on Twitter and Facebook