(This post was originally posted by Scott Willison on the Coronation Street Blog in January 2017, reposted with permission.)
Poor Toyah Battersby. Her recent marital problems mean she's left without a husband, without a home, without a job.
Wait, what?
In Monday's
Corrie
, Toyah was forced to throw herself on Liz's mercy in the hope of earning a few pennies. "I was a counsellor in Liverpool," she informed us, but some bar work would apparently keep her going while she looked for a new position.
First, let's deal with the fact that a fully trained, experienced counsellor probably wouldn't need to scrabble around in a backstreet boozer for random pennies. I accept that it is a haven for business professionals; top CEO Sarah-Louise Platt, for example, came out of years of running an Italian business and literally the only job she could get in the UK was serving half a shandy to Norris of an evening. But still, Sarah-Lou had moved across an entire continent to get away from her old job. Toyah has moved from Liverpool.
Liverpool is, if you didn't know, quite close to Manchester. There's a motorway connecting the two. There are two railway lines connecting the cities, one of which is
literally
the first intercity line built in the world. You can travel between the two in less than an hour, and it costs about a tenner on public transport. Why can't Toyah just, you know, commute? Why does she have to give up her job at all? Thousands of people travel between the two cities every day; why can Toyah only work somewhere that's within walking distance of her front door?
It throws up a problem with the fictional world of
Coronation Street
; if it doesn't happen on the Street, it doesn't happen anywhere. If Toyah had moved from, say, Kircudbright, we'd have no problem believing she'd left her old world behind. It's what's happened with Adam - we accept that he had a life in Canada, but he's starting again in Weatherfield. Toyah, on the other hand, is within spitting distance of her old life. She could nip back to Liverpool after lunch, pick up all her worldly possessions, and still be back at Leanne's flat in time for
The Chase
. They fell into this trap before, with Martin Platt; he moved to Liverpool with his new wife and showed absolutely no interest in visiting his son in prison or his grandchildren or the funeral of his daughter in law. It niggles. It sticks. You know, as a viewer, that it's because the actor won't visit or the storyline dictates a radical change, but the point is: you shouldn't have to see the joins. If you can see the narrative inconsistencies something hasn't worked.
If you're not going to feature someone's other life, some world that she has to abandon in order to relocate to Coronation Street, set it miles away. Set it in Cardiff or Bristol or Abergavenny. Stick it somewhere where we don't end up shouting "For pity's sake, BUY A SEASON TICKET!" at the TV screen.
Scott, twitter: @Merseytart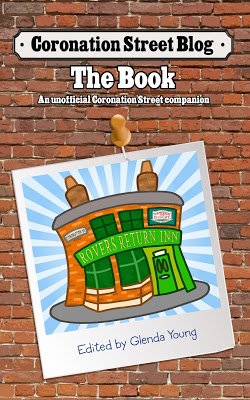 NEW! Coronation Street Blog - the book.
A must for all Corrie fans!
Follow the Bluenose CorrieBlog on Twitter and Facebook