(This post was originally posted by Flaming Nora on the Coronation Street Blog January 2017, reposted to this blog with permission.)
Guest blog post from Rachel Doyle who is on twitter @Rachel_Doyle72 and has a website at

http://www.

racheldoyle.co.uk
Fancy writing a guest blog post for us? All details here!
"I started watching Coronation Street in the early 80's when I was around 8 or 9 years old. My parents were avid viewers so it was inevitable that I would also become a fan of this gritty Northern soap.
Being born and raised in Manchester was just another reason why I felt a connection to Corrie. I grew up in a two up two down on a street not dissimilar to Coronation Street but without the cobbles! We had a little back yard like Jack and Vera's with an entry which separated us from the terraced houses in the next street. The entry was cobbled. The rag and bone man used to make his way down the entry shouting for any bits and pieces. The lady who lived next door still had a coal fire and the coal man used to deliver bags of coal into her backyard. It was all very Northern!
Back then I remember the show aired only twice a week on a Monday and Wednesday evening. If Corrie ended with a cliff hanger on a Wednesday well you just jolly well had to wait until the following Monday to find out what happened next.
And you couldn't miss it. You had to be at home when it was on or you missed out. And missing the show meant that you wouldn't be able to join in with the conversations the next day with your friends who were all discussing what had happened the night before. That's how we watched Coronation Street. It was a social thing. It brought people together, it was a conversation starter and we all had our favourite characters.
When I was around 14 or 15 years old some of my friends and I would finish school in the Whalley Range area of Manchester and jump on the bus down Princess Parkway into town. Getting off in Piccadilly we'd make our way through the City Centre to Granada Television on Quay Street.
Standing at the gates at the bottom of Quay Street you could see a tiny bit of the set, the corner shop. Even that was exciting back then actually knowing that the famous cobbled street was just beyond those big black iron gates.
We'd wait patiently at the gates to hopefully get a glimpse of some of the cast coming in and out and if we were lucky enough and they'd stop to chat we'd get an autograph or a photo with them. Many a time I saw the actors who played Alf Roberts, Ivy Tilsley, Mike Baldwin, Alec Gilroy and the like. It was so exciting and we spent many fun filled hours waiting outside Granada TV!
In 1988 fans of the Street were in for a real thrill when the Granada Studios Tour opened its doors to the public. Of course I had to go. I was 16 years old and this was the ultimate experience. It was amazing having my photo taken outside the Rovers Return, Baldwins Casuals and Alfs Mini Market. Seeing for the first time the places we'd only ever seen on television was fantastic.
If you're from Manchester and spent a lot of time in the City Centre you would without a doubt at some point see one of the cast going about their daily business. I saw a few of them out and about over the years. Thelma Barlow who played the wonderful Mavis shopping in C&A in the Arndale springs to mind!
My mum used to work in Greggs on King Street which wasn't too far from Granada TV. She used to come home and tell me which of the cast members had popped in that day to buy their lunch!
Watching Coronation Street continued as normal throughout the 90's. Watching every episode and discussing it the next day with friends. My friends and I often wrote to our favourite cast members for signed photos and we met up and showed each other the signed cast cards and letters we'd received back. All very exciting to us because we'd had a response from someone off the telly! Wow!
Fast forward to the introduction of the internet and in particularly social media and just the way we watch our tv programmes has changed immensely.
Coronation Street is in our living rooms on a much regular basis these days. 5 episodes a week for our viewing pleasure. No panic if we miss it when its aired as it's waiting for us on the ITV Hub for when we're ready to catch up with happenings in Weatherfield.
Social media has completely changed the way we watch Corrie. So much so that if you do miss an episode its wise to avoid Twitter until you've seen it as people in their thousands Tweet about the current episode not just after the show has aired but during it too!!!!
And it's not just fellow Coronation Street fans that you can interact with on Twitter, it's the cast members too!
Some of the cast have their own Twitter accounts verified with a blue tick so you know they are the real deal. Many Tweet about the show and fans interact with them. Sometimes refering to them as their character, sometimes as themselves. It's all a bit of fun and it just enhances the experience of watching a television programme. It's become very interactive.
I enjoy using Twitter, I must admit. Hardly a day goes by when I don't Tweet about something or other. I do follow all the Coronation Street cast members. And I do join in when there's a Tweeting frenzy after an episode 'acting' like the characters are real, joining in the banter with everyone else.
So times are changing thanks to the internet and on demand services. The way we watch television is nothing like we've ever experienced before.
Follow Rachel Doyle on twitter @Rachel_Doyle72 and visit her website at

http://www.

racheldoyle.co.uk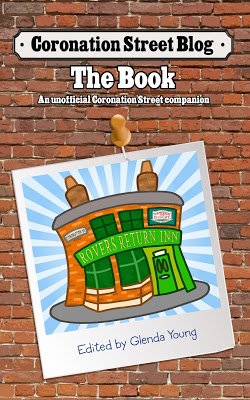 NEW! Coronation Street Blog - the book.
A must for all Corrie fans!
Follow the Bluenose CorrieBlog on Twitter and Facebook