(This post was originally posted by Flaming Nora on the Coronation Street Blog January 2017, reposted to this blog with permission.)
Jean Hobson is one very talented woman. Through her drawings, prints and paintings Jean has created a sensitive record and study of the transformation of Manchester.
Her work naturally involves Coronation Street and Jean has created some wonderful works of art. All of the
prints are hand printed silk screen prints, which she's printed and now has for sale.
Have a look at the Manchester Screen prints here.
The main print above, 'Coronation Street' is printed in black on a grey board. The image size is 320 x 260mm, mount size 500 x 400mm (fits standard frame). These are priced at £95 each mounted and including postage.
The smaller prints 'Rovers Return' and 'Roys Rolls' are printed in black on a white good quality paper.
Image size 125 x 175mm, Mount size 210x 300mm (Again will fit into a standard frame)
Priced at £25 each mounted and including postage.
For full details have a look at Jean's website: http://www.jeanhobson.com
Tvor
@tvordlj on Twitter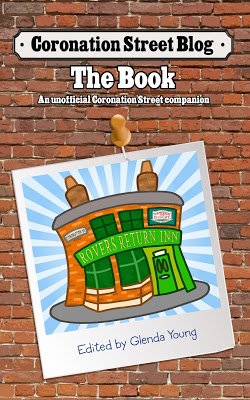 NEW! Coronation Street Blog - the book.
A must for all Corrie fans!
Follow the Bluenose CorrieBlog on Twitter and Facebook