(This post was originally posted by Tvor on the Coronation Street Blog in January 2017, reposted to this blog with permission.)
I like to keep track of things through the year on Corrie and make up a fun awards post. My awards are not generally the usual Best Actor/Actress etc. though there is a bit of that. Mine are a bit more fun, I think. I have also included a potted review of the major storylines and the storylines by house/family and have a small section on things I think might happen in 2017.
Have a look on
State of the Street here.
You will find out things like who were the most doomed couples, which storylines were something new that hadn't been done before, What were some surprising twists, and who won the John Stape trophe.
There were, of course, soap cliches with the "You could see that coming" awards including Leanne getting pregnant from a one night stand. There's a long list of Deja View (Vu) awards for repeat storylines such as Bethany getting a crush on her mother's boyfriend again.
Further on, there is a list of major storylines, and a 2017 speculation list, some of which is pretty much a given (Robert and Michelle, anyone?) and some are just things I'd like to see like Fiz and Tyrone getting married.
Lastly, by the family/house, you can read a quick list of some of the things that happened for each group living or associated with that family or address. I make notes through the year so I don't forget and make up new awards or get rid of old ones that don't apply. It's all in fun and something I like to do each year. I hope it amuses you!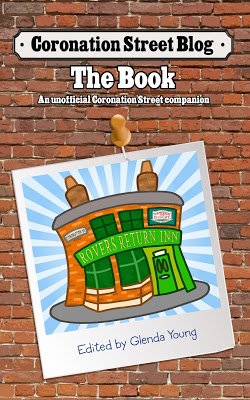 NEW! Coronation Street Blog - the book.
A must for all Corrie fans!
Follow the Bluenose CorrieBlog on Twitter and Facebook