Mary went to the cafe with them and they reheated dinner for their feast. She and Norris took on the wishbone. She gets to make the wish. She thinks she has everything with her friends, family, love and loyalty but wishes she could have been someone's mum. Wishes do come true, people. A young man came to the cafe. It's Jude, Mary's son and he even said Merry Christmas, Mum, virtually guaranteeing he won't reject her. Awwww!!! Brought a tear to my eye, I tell you.
Jude addresses Norris' worries about Mary moving away with a virtual stranger and he makes sure to have his say as well. Tracy was quite complimentary to Mary and I think she'll miss Mary, actually. Mary's ready to leave on New Year's Eve. I wondered if Dev would be there and he was. The twins didn't want her to go, that was tough. Poor Norris is feeling lonely already but was Mary disappointed that he didn't try to talk her out of it? Sounds like a little part of her was feeling a bit nervous maybe.
Phelan is still in hospital, inexplicably. And, inexplicably, Eileen proposed to *him*! Andy's having a really bad day. He's skipped out on dinner at the Britton's and next, putting those stolen drugs in the orange juice and appeared to be on a murderous mission to the hospital but a loved up couple put the kibosh on that. Todd was shocked when he heard the news. Later when Billy got home with Shona, we saw that the man from the church followed her and Shona definitely recognized him. Is this another scam? Remains to be seen. But Billy has finally had a rejuvenation and feels like he's called back to the church, much to Todd's disappointment. I wonder if this will break them up?
Andy found a way to get the orange juice to Phelan pretending it was contraband with gin in it. Only problem is, he decided to share it with Andy. He promises they'll be quits after Andy sells the tablets, he can walk away free and clear. Andy managed to spill the drinks. Phelan caught on, he's not stupid. Andy cleared out of the flat with a big bag. The bag was three times the size of the doctor's bag that he stole the tablets from. Why did he need such a large bag for a small lot of pills? Never mind. Phelan isn't going to let Andy off so easy and you knew that was coming.
Come New Year's Eve, Andy's mood hasn't improved and we find out that Phelan is getting out of the hospital. He did, and went straight to the pub. He and Steph are joined by Luke and Tracy in the pub. That's just so weird. It was amusing having Steph and Tracy exchanging age insults. I think Tracy got the worst of it. Andy nearly plotzed seeing Phelan in the pub and then tried to find a mate he could stay with. Looks like he's planning to leave town but he might not get away if Phelan has anything to say about it. Them were very threatening words, Phelan had for Andy. Will he run anyway?
Tracy, Luke, Steph and Andy went to the Bistro in spite of Robert sacking Steph and he didn't say anything. Luke got smashed, Andy makes excuses to leave. Looks to us like he's going to do a runner just at midnight, leaving Steph on her own.
Smug Nick is out jogging on Christmas morning. Peter tells Tracy he's going to be away somewhere in the evening, she assumes it's sponsor things to do with AA. But it's his new girlfriend! Nick doesn't know that, though. He sees Peter making a call and Leanne taking one. Coincidence? He thinks not. Before Leanne and Nick could get away to Liverpool to Toyah's, Toyah came to them, wearing her pyjamas, even! Big blow up with her husband, she says she's left him and on top of that, it's her fault. She's been having an affair! She and Leanne go off to sort themselves out while Nick and Simon head to Number 1 and crash Christmas dinner there. Tracy makes a few noises but nobody else is really bothered. Nick just stews in the corner glaring at Peter.
It's back and forth. Circumstantial evidence is reinforcing Nick's suspicion that Peter and Leanne are having it off with Peter running out for a cig, straight over to Victoria Court, after Leanne texts Nick that Toyah is in the shower. Nick freaked out because he realized that cassette tape was missing and that pushed him over the edge. He attacked Peter out on the street! I laughed, though, for all Nick's pushing around, Peter's one smack in the gob floored Nick which he wasn't able to do to Peter at that point. He did get one good blow in though he had to take a running jump to do it and Peter's next punch ended the fight because Leanne came out. All over a cassette tape with a tag to the love of his life. It did give Leanne pause and he lied over what it meant. He got the final shot in, lecturing Nick about causing Leanne stress when she'd already lost one baby.
Peter said he was going to a meeting but ended up in a bar. Don't do it! He didn't. But we found out who the love of his life is. Toyah!!!!!!! I guessed it weeks ago, just an educated guess from long years of soap watching. They ended up in a hotel (what excuse did Toyah use to get away?) and some of us are treated by a look at Peter's tattoos. It's been a long time! They're going to come clean or so they say.
He created a lot of worry staying overnight and everyone worried he was still in love with Leanne who's just fed up with the lot of them. Even Simon can't understand why they just can't all get along. After he got back he assured his father all was well but Ken is suspicious. He's right but for the wrong reasons. Toyah had lied as well, saying she'd gone back to Liverpool but she didn't because her husband showed up to try to talk to her and was there when she got home. One of the weak spots seems to have been a failure to get pregnant and that is certainly something that can cause a lot of stress in a relationship. Toyah and Peter didn't get to tell Leanne and Nick about their relationship because Leanne had to go to the hospital with a really bad headache.
Nick blamed Toyah for the stress so she tore a strip off him. It turned out Leanne has a kidney infection and high blood pressure. I guess Toyah and Peter's secret will stay secret for awhile no matter how much Leanne tried to get it out of her. I guess for the time being, Toyah and Peter will be skulking in the ginnel, stealing kisses but someone knows their secret. Simon caught them on the "sky cam" on his drone!
The next thing we know, Toyah is still on the Street planning to visit Leanne in hospital but later Simon told Peter Leanne was visiting Janice. Did they tell him that so he wouldn't worry or is it a continuity fail? Shouldn't be hiding things from kids, I say. Simon did confront Peter about Toyah. He tried to explain it as trying to make her feel better, a hug turning into a "sort of" kiss. Tonsil hockey is a long way from a sort of kiss. Simon didn't take any of his faff. He's threatening to tell Leanne, the last thing Peter and Toyah want because of the extra stress.
Bethany's got a new smart watch. Lily's got a magic phone and she can talk to Mummy! God, wasn't that a tear jerker? David pretending along with them and Max, too, because he knows more than Lily really. Sounds like Audrey and Gail went to Milan for Christmas to see Steven. That's probably a good idea for Gail who's grieving, getting away from the normal routine. Leanne bought Nick a baby buggy? Oh well, I guess she certainly believes in equal parenting. Simon and Max turned it into a water pistol war!
Bethany was hugely rude to Gary and was warned by Sarah. Gary tried to talk to Sarah like a grownup. She seemed to be calling a truce by saying she is bored with winding him up and admitting to Faye it was a stupid crush but you knew it was difficult for her. Anna and Faye are having their Christmas with the Platts. The day seems to go pretty well, with Gary and Sarah loved up and David and the kids having fun but Bethany is taking more diet pills and Sarah caught a message from Faye on Bethany's new watch, which she wasn't wearing and the secret about her crush on Gary is out. All Bethany had to do was pretend the guy she had the crush on was also called Gary but no, it all kicked off.
Bethany ran off and that strange man from the church found her, thinking to see if she needed help. She didn't. She brought the big bottle of pills and it looks like she was going to take them all. Later, we hear her vomiting in the ginnel and looking very rough and down she went. That same man, called Nathan, found her and then Tyrone happened along and got her to the hospital. She woke up and didn't know where she was. Scary prospect.
Anna and Faye are moving in with Kevin who just got an emergency call that Sophie has had to have an emergency appendectomy which isn't cheap in the US. Coincidentally, Kevin has spent a big chunk on a new tow truck. Gary's taking off, as well, going to visit his dad in Germany. Anna is not pleased that Phelan will be home. Seb has finally shown up, having been more or less incommunicado the whole holiday and he wants Faye to stay over at his. Sounds like Anna isn't having it but did book at taxi to bring her back later after midnight. Kevin has to leave Anna on her own to go rescue Johnny.
Jenny and Johnny are planning a New Year's Eve party. Jenny continues to complain about Gemma using her things so Johnny invited her to move in. Not sure if that was her intention but she was pretty happy he invited her. Johnny has to leave on an emergency work thing so Jenny has to host the party on her own. She didn't mind, playing lady of the manor while Johnny had to struggle with a flat tire. Jack was up when Kevin left, which seemed to be nearly midnight. Mere minutes later, he was downstairs on his own in the dark so there must have been more of a time spread than we were shown. He went for a drink, broke a glass and Anna went crashing down the stairs in the dark. Oh dear. Poor Jack didn't know what to do and decided to go for help. Surely there would be someone around.
In the pub, Liz has gone to Spain to see Andy for Christmas but she was back behind the bar on Boxing Day. Steve is still stalling over Michelle's Christams present because of course the tv is at Tim and Sally's where Sally thinks it's hers. Steve gave her the globe after all. You can imagine how that went down. Sally bragging about her new television made Steve realize what had happened. The truth came out adn Sally wasn't best pleased and she wasn't going to give it up. Michelle took (i think) Tim's laptop as hostage and pointed out it was Tim that chose the globe for Sally after all! Ouch.
On Christmas day's episode, a choir sang "Last Christmas", a song from Wham and George Michael. Nobody would have guessed that he would have passed away that day. Boxing Day in the pub, Michaels' version of Last Christmas was on the juke box. I wonder if that was dubbed in at the last minute? Seems odd they'd have used the same song two days in a row otherwise.
Sally's windows and garden have been trashed. She puts it down to the bane of being a politician. I figure it's just chance. Nice to see Toyah visiting Roy as an old friend. Eva bought Aidan a kitten. Somehow I don't think that would have gone over too well. I see Cathy has made an appearance in the pub on New Year. Wonder where she's been hiding out. We haven't see her since the wedding.
Tvor
@tvordlj on Twitter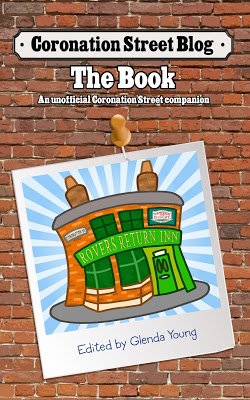 NEW! Coronation Street Blog - the book.
A must for all Corrie fans!
Follow the Bluenose CorrieBlog on Twitter and Facebook