(This post was originally posted by Flaming Nora on the Coronation Street Blog March 2017, reposted to this blog with permission.)
Another great guest blog post from Coronation Street fan Rob Coates.
Rob his on twitter
@abfabrobcoates
And now, it's over to Rob...
"Is it just me who believes the Barlow gene should always be a part of Corrie?
With Sinead's latest pregnancy news, the possible patter of tiny feet on the cobbles is good news. Because we need the Barlow name to stick around. And the way to do that is by more Barlows being born.
As the years go on, it's becoming less and less likely that Tracy will have another child. Not impossible, but more unlikely. And she's not really a Barlow, anyway. She's a Langton. Which, of course, means that Amy is a Langton/McDonald. So Amy's future off-spring are useless in this argument!
Luckily we have good old Peter who probably can't work the zip in his jeans, having never had the need to keep his pants on for longer than five minutes in any given day. Which is good news for the Barlow gene as there are countless possibilities in the future for some random women to turn up in Weatherfield claiming that at some point in the past, they slept with and got pregnant by our Peter. Meaning the Barlow name could live on.
Although the forgotten Lawrence Cunningham has the Barlow gene, he's now in his late 50s and so the possibility of him having more children seem similar to Tracy's chances.
Lawrence, of course, already has a son bearing the Barlow gene, James. But as James is gay, the chances of James becoming the father of a Barlow child might be slimmer. There are various options open to him, such as artificial insemination, should he so choose. Only time will tell. And that's if anyone actually remembers that he exists.
So it's all down to Ken's kids. Let's hope that Sinead and Daniel have their baby so that the Barlow name and gene can live on.
With thanks for this guest blog post from Coronation Street fan Rob Coates.
Follow Rob on twitter
@abfabrobcoates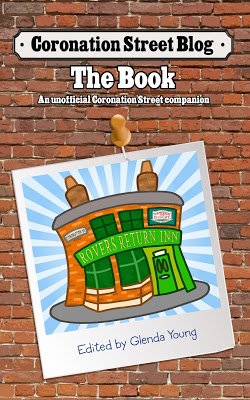 NEW! Coronation Street Blog - the book.
A must for all Corrie fans!
Follow the Bluenose CorrieBlog on Twitter and Facebook