(This post was originally posted by Sophie Williams on the Coronation Street Blog in February 2017, reposted to this blog with permission.)
Who'd have thought it? Adam Barlow and Todd Grimshaw working together. Whoever came up with the idea to open Black Sheep Solicitors deserves a medal.
Last week, viewers saw Adam and Todd put their minds together and formulate a plan to open their own law firm. Adam revealed that he was retaking his exams which prompted Todd to remind us that he too was training to become a solicitor when he lived in London. After more drinks were consumed, words started to become quite unpleasant when a rather angry and slightly drunk Adam confided in Todd about Ken's supposed punishment for being the son of Mike Baldwin.
Long standing audience members will remember the unforgettable feud between Ken Barlow and Mike Baldwin, sparking of course, when it was revealed that Mike and Deirdre were having an affair. Adam is the son of Baldwin and Susan Barlow, who was Ken's daughter, thus his connection to the Barlows.
Everyone knows that Todd isn't whiter than white and his involvement in this law firm could be quite similar to his behaviour at the builder's yard. Working with Tony, Todd scammed customers and overcharged them. However, this almost cost Jason his business when Todd cut corners on Tyrone Dobbs' loft conversion. Will he have learned from these mistakes or just use his bad experiences to not get found out?
Ever since Adam's return, we've also seen him taking part in dodgy dealings. Let us not forget the lies he told to convince everyone his flashy rental car had been stolen when in actual fact he'd sold it on and kept the cash for himself. In addition, we know that Adam will soon get wrapped up in Sophie and Rosie Webster's drugs predicament.
But what exactly was that look Todd gave Adam after he declared that Ken can "go to hell"?
I see this as a look of compassion and here's why. From what we've seen so far, Adam is an incredibly bitter character with revenge being the only thing on his mind. Sound familiar? This was the definition of Todd a couple of years ago following his violent attack which left him with his permanent facial scar. He became so obsessed with revenge that he lost his entire family and any friends that he'd started to make (apart from Tracy). Once he was welcomed back into the Grimshaw family, he reminded Jason time and time again that revenge really isn't worth it. After Adam's short outburst in the Rovers, I think that Todd recognised that part of himself within Adam.
Therefore, if this law firm goes ahead (which I sincerely hope it does) I would like to see Todd's softer side emerge again and take Adam under his wing, to show him that the world isn't out to get him. Although, I also hope that Todd isn't as good as gold because that's part of what gives him his edge. I can see a budding friendship appear with the foundations that have already been laid out and I am optimistic that Corrie will continue to develop this.
Written by Sophie Williams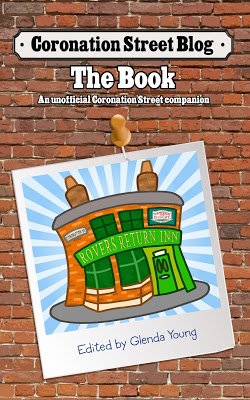 NEW! Coronation Street Blog - the book.
A must for all Corrie fans!
Follow the Bluenose CorrieBlog on Twitter and Facebook