(This post was originally posted by Ruth Owen on the Coronation Street Blog in January 2016, reposted to this blog with permission.)
Peter Barlow is an attractive man. I'm not sure if he's tall, but he is dark and he is handsome. He also has a twinkle in his eye. He's middle-aged now, 51 to be exact, 52 in April, but the accumulated years have not dampened his enthusiasm for the ladies, nor the ladies for him. In fact, if anything, as Peter has matured, he has become more attractive.
He is (or maybe is not after Wednesday's episode) currently with Toyah. He has even claimed that she is the love of his life, though I cannot help but think, rather cynically, that he says that to all the girls. He probably said it to Leanne, when they were together, until he found himself saying it to Carla, for whom he left Leanne. He might also have said it to Tina Mcintyre, who was half his age, when he was still with Carla. Lucy the florist no doubt was informed that she was the love of Peter's life, as almost certainly, Shelley Unwin was too.
So why do these attractive, capable, independent-minded women, and others fall for the son of Ken? He has no wealth, he's unlikely to make any significant money, he doesn't drive a flash car, though he does drive one of Steve's Streetcar fleet, and he is not exactly a snappy dresser. He was also an alcoholic, still is, as I have learned that alcoholics are always alcoholics whether they are drinking or not. At least for now, he manages to stay away from the demon. No judgement here.
But what he does have overrides what he does not have: he has charm, charisma and sex-appeal - attributes which cannot be bought. Naturally Peter is aware of his ability to draw women to him and there was an example of this on Wednesday, when an attractive woman needed a lift to a hotel. Tim asks Peter to take on the fare and he does. The woman is clearly attracted to Peter and on arrival at the hotel, asked him in for a coffee. This time, despite the green signal flashing and the words, 'Take a risk, stay awhile,' Peter walked away. I can't help thinking that she will reappear at some point...
Peter is angry with Toyah as she lied about her feelings concerning babies. He has told Toyah that his baby days are over. It was Toby who revealed to Peter that Toyah was desperate for a baby. Does this mean that the relationship between Peter and Toyah must end? Or can they find a way through this? It must be said that Peter is a long way from Dad of the Year. Luckily Leanne has been a good mother to Simon.
And what about Ken? Is Peter a chip off the old block? Ken has had his fair share of flings, affairs and dalliances. Ken did have a stable home life with mum, dad and brother, though he tragically lost his first wife, Valerie, who was electrocuted by her hairdryer. Ken struggled to cope with the twins and when Peter and Susan were six years old, he despatched them to Glasgow, to be brought up by their maternal grandparents. Maybe, the early loss of his mother created a need in Peter to have plenty of relationships with women, a psychiatrist may even pronounce that Peter has not given up searching for a mother replacement. Just a thought.
Ruth Owen, @ruth1722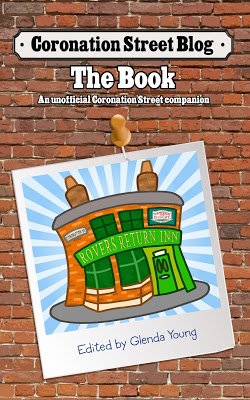 NEW! Coronation Street Blog - the book.
A must for all Corrie fans!
Follow the Bluenose CorrieBlog on Twitter and Facebook