Gemma and Michael's podcast for the episodes that aired up to last night's Canadian Corrie
can be heard here
.
This week in the Street, Phelan has to clean up evidence. Michelle hits rock bottom, almost literally when Robert ends up pulling her back from the edge. Steve and Michelle say goodbye to their son. Nick continues to have tantrums about Steve and Peter both but in the end, Peter has the upper hand after finding out Nick was trying to move Leanne and Simon away to Scotland. Adam's plot to get money out of the Connors backfires and Ken has some life news for his family. Tracy turns 40 and the day ends with her baring her soul to Luke, sort of, and gaining a real boyfriend.
The NTA awards are discussed with a full fashion run down, there's a review of a few old Corrie actor exercise DVDs and there's a spoiler Kabin Extra at the very end which you can avoid if you stop listening a little early.
Remember, you can also listen to
Conversation Street on iTunes
(leave a fab review if you do!)
Tvor
@tvordlj on Twitter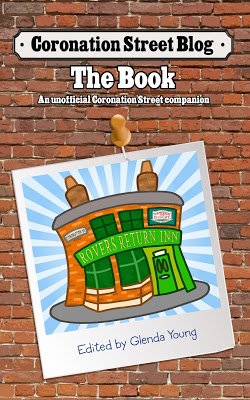 NEW! Coronation Street Blog - the book.
A must for all Corrie fans!
Follow the Bluenose CorrieBlog on Twitter and Facebook